Share this URL: http://tus-peipei.peatix.com
Event is FINISHED
How to turn adversity into gift - Pei Pei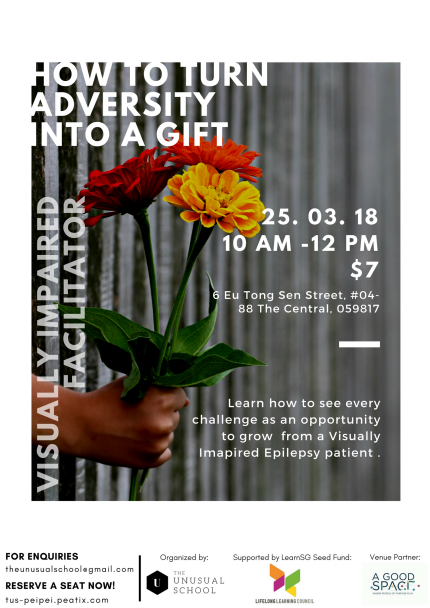 The Unusual School is dedicated to developing emotional intelligence by applying psychology, philosophy, and culture to everyday life. The workshop will be facilitated by a Visually Impaired Facilitator.
Trainer Profile
Pei Pei began suffering from epilepsy from her late teens till her twenties. The frequent convulsions and side effects due to increase dosage of anticonvulsants in order to suppress the seizures greatly affected her healthy both physically and mentally. She began to gain weight rapidly, feel tired and drowsy all the time, suffer from memory impairment, performed poorly in school and eventually lost interest in life. Despite or perhaps in spite of these tribulations causing her to sink into depression for months, it had ultimately enhanced her resilience and taught her to conceptualize every subsequent challenge as an opportunity to learn and grow.
Join Pei Pei as she share on how she developed a growth mindset and her toolbox of techniques to foster resillience, accepting adversity and challenges as learning opportunities.
Event Details
Venue: 6 Eu Tong Sen Street, #04-88 The Central, S059817
Time: 1300 - 1500
Date: March 25, 2018 | Sunday

This workshop is brought to you by The Unusual School, supported by LearnSG. This is also a part of the Be Inspired Program at A Good Space, Where People of Purpose Play. It transforms ordinary spaces into places of purpose by convening catalysts to invent, innovate, intersect and inspire communities.
read more
Sun

Mar 25, 2018
1:00 PM
-
3:00 PM
SGT
Add to Calendar
Venue
Tickets

General Admission

SOLD OUT

$7.00
Venue Address

6 Eu Tong Sen Street, 04-88, Singapore

Singapore
Organizer
Want to find more groups and events like this?